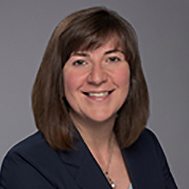 In her roles as Deputy Minister of Employment and Social Development Canada (ESDC), Chair of the Labour Market Information Council and Chair of the Canada Employment Insurance Commission, Ms. Levonian provides significant leadership in advancing the development, analysis and dissemination of labour market information.
ESDC supports a broad range of activities, including investment in new survey and administrative data; long-term employment outlook; research into the changing needs of employers; experiences of underrepresented groups in the labour market; and funding industry-driven labour market information to help sectors understand and implement solutions to their human resource challenges. In addition, Ms. Levonian has maintained a client-centred focus through investments in the national Job Bank so that it provides a modern, user-friendly and effective job matching service for job seekers and employers.
Ms. Levonian graduated from Queen's University in 1990 with a Master of Arts in Economics, majoring in public finance and industrial organization. She also obtained a Bachelor of Arts in Economics with High Honours at Carleton University.
Prior to her appointment as Deputy Minister of ESDC, Ms. Levonian served as the Chief Operating Officer for Service Canada and Senior Associate Deputy Minister of ESDC. She worked at the Department of Finance from September 1995 to July 2014 with two intervals outside the Department: the most recent at the Privy Council Office of the Government of Canada as the Director of Operations (Planning) in the Priorities and Planning Secretariat; and one with KPMG – Barents Group as a tax consultant. At the Department of Finance, Ms. Levonian held several positions, including Associate Deputy Minister, Senior Assistant Deputy Minister Tax Policy Branch, General Director (Analysis), Director of Business Income Tax and Departmental Secretary in the Deputy Minister's Office. She also held positions at the Treasury Board Secretariat and the Department of Transportation prior to joining the Department of Finance.
Back