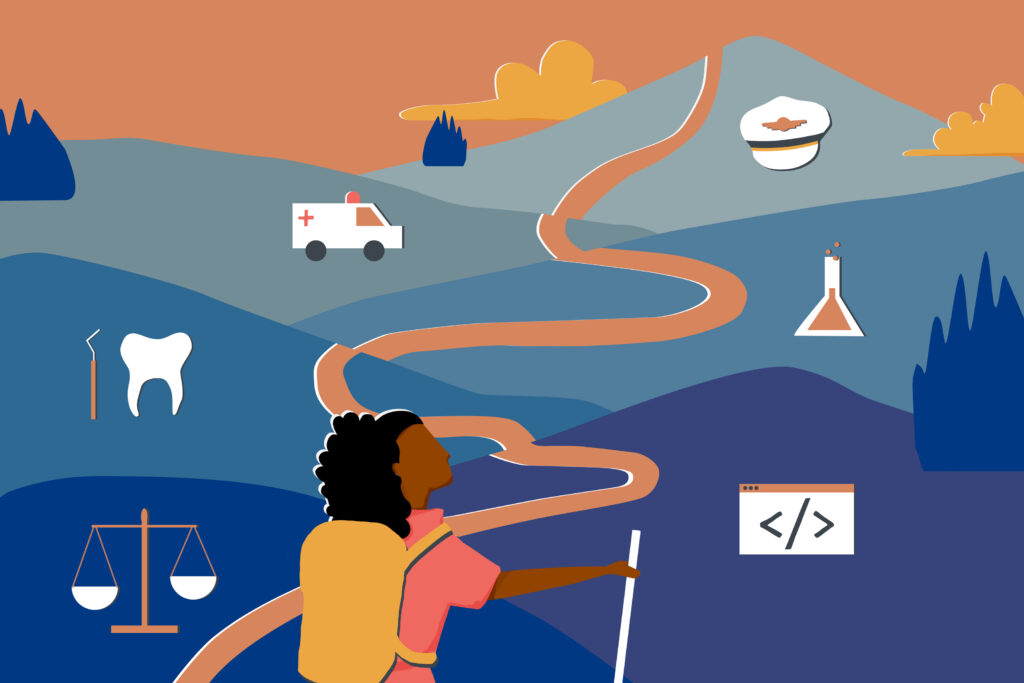 Bridging the divide between career services and equity-seeking groups in Canada
Listen to this article as an audio recording
Recently, the Labour Market Information Council (LMIC) and the Future Skills Centre (FSC) launched a report which sought to understand how adults in Canada are making use of career services.
The findings highlighted that immigrants and people who are unemployed are more likely to use career services. However, at just 27% uptake, their use of services is still low – particularly when compared to other countries.
This is a concerning data point, considering that many of the clients we serve at Skills for Change are new immigrants and low-income families.
With increasing pandemic-related career and work challenges being faced by our clients, the findings in the report made us wonder: why aren't career services being used in the communities we serve?
A DIGITAL EQUITY GAP FOR NEWCOMERS AND LOW-INCOME PEOPLE
A recent report from Deloitte on digital equity outlines how technology has transformed the way we work.
This reliance on technology has exacerbated existing social inequalities, affecting groups like newcomers, racialized persons, older adults and low-income communities.
Due to COVID-19 restrictions, career service providers shifted their work from in-person to online, making it difficult for many people to access the support they need.
Prior to the onset of the pandemic in 2020, our clients were able to receive in-person support, attend career management workshops and use onsite computers to update their resumes. This rapid shift to virtual services created a barrier for many who did not have access to wi-fi and laptops, or who had bandwidth and connectivity challenges.
While career service organizations may return to in-person or hybrid models, the dependency on technology remains. As career services continue to adapt to a new digital reality, equitable access to technology and technology-enabled services will be critical to ensure all people can succeed in the Canadian job market.
ADDITIONAL BARRIERS FACED BY WOMEN AREN'T BEING ADDRESSED
In 2021, the Harvard Business Review surveyed 150 women on closing the gender gap in positions of power in the workplace.
Their survey found that gender bias and structural disadvantages still impede women's success.
Barriers for women start at the establishment and maintenance stages of their career journeys. Many career services don't fully accommodate the full extent of the barriers that women – and especially newcomer and racialized women – face when entering the labour market.
Complex socioeconomic and cultural challenges like low confidence and the motherhood penalty – in which women with children are seen as less committed and less motivated – result in women only being able to access lower-skilled and lower-paying jobs. These challenges are compounded for newcomer and low-income women.
At Skills for Change, our research has shown that these barriers result in burnout and mental health challenges, and career services are often not equipped to support women through these unique and challenging journeys.
INTERSECTIONAL AND RESPONSIVE CAREER SERVICES CAN BRIDGE THE DIVIDE
If we want to change the statistics in Canada and support more adults to access career services, then the services on offer need to be tailored to the unique needs of newcomers, low income persons, women, racialized groups and other equity-seeking groups.
At Skills for Change, we're addressing these challenges by offering career development workshops and courses customized to the unique needs of newcomers and racialized women, in addition to mental health and well-being support.
This year we launched programs which provide free technology access to people experiencing challenges using digital services. We have also developed a number of women-specific programs focused on gender-based violence and increasing confidence. As a result, we have seen an increase in employment success and a greater uptake of career services.
BETTER DATA LEADS TO BETTER SERVICES
Data like that presented in LMIC and FSC's report can spur us to take a critical look at what is and is not working in career services for Canadians.
While my analysis in this article focused on the critical role that digital equity and gender bias play in limiting access to career services, there are other factors requiring more in-depth data collection and analysis.
Further study of career services in Canada will help us gain a deeper understanding of why these services aren't better used, and how career services organizations and stakeholders across all sectors can help by tailoring their services, approaches and strategies.
Surranna Sandy is CEO of Skills for Change, a multi-service non-profit agency which envisions a Canada where every immigrant succeeds.
Prior to joining Skills for Change, Surranna enjoyed a successful career as president and founder of Surcorp Group, a career management firm with offices in Toronto and Ottawa.
Having the first-hand perspective of an Immigrant in a new country, Surranna found her calling in advocating for and advancing the needs of immigrants and refugees as a volunteer and board member in the settlement sector. Surranna is a member of LMIC's Career Development Stakeholder Committee.